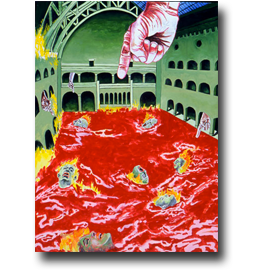 Condemned to the Lake of Fire
gouache, pastels, and inks, 30x22"
2003
Artist Larry Edwards
Courtesy of the artist
Edwards was a professor of painting at the University of Memphis for many years, and has had a lasting influence upon scores of local artists. His works deal with a manner of morality tale influenced by the likes of Hieronymus Bosch, Edvard Munch, and Philip Guston. His Lost Toys in the Garden (2005) epitomizes the duality of innocence and antipathy present in much of his paintings. Equal parts elegant and ominous, viewers are attracted by the array of purple flowers underneath which discarded playthings rest as if engaged in an arch game of hide and seek. Of his work Edwards has said, "I see a dangerous struggle everywhere." Nowhere is this more evident than in Condemned to the Lake of Fire (2003) depicting a number of moral transgressors up to their necks in molten lava, hands pointing in judgment of their sins from on high.