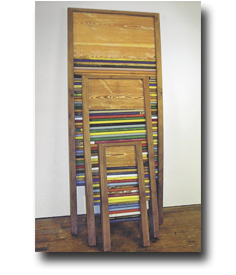 Three Scrub Boards
"broom handles, walnut, and pine, 96x42x30""
2006
Artist Greely Myatt
Courtesy of David Lusk Gallery
A professor at the University of Memphis since 1989, Myatt's work was the subject of a major 20-year celebration of his presence in Memphis in 2009 organized by artist Hamlett Dobbins, with installations in multiple galleries, museums, and outdoor venues. His interest in traditional quilt making derives from his upbringing in small town northeast Mississippi, using recycled materials to construct recognizable patterns found in early catalogs of American Art and Craft. With Three Scrub Boards (2009) he recreates a design often called "Love Ring", but also referred to as "Around The World" or "Clam Shell". Myatt's work has been featured in solo and group exhibitions nationally and abroad for 2 decades, while his method of transforming mundane found objects into works of art have influenced countless students, many of whom are working artists in Memphis today.